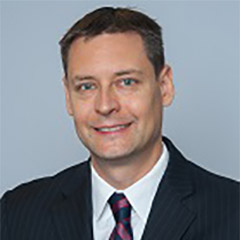 Jason Johnson is an associate in Moses and Singer's healthcare practice, with a focus on intellectual property, regulatory, technological and business matters. Jason has over 11 years of experience as a patent litigator in Hatch-Waxman Act litigations in the chemical and pharmaceutical areas, strategic patent counseling, and IP portfolio management.
Jason has represented companies in all phases of patent litigation, from pre-suit investigations to trial. He has substantial experience in client counseling regarding patent portfolio management, including reviewing patent portfolios, providing advice on the strength or weakness of those portfolios and what actions should be taken, if any, to best protect the product or assets that are important to a company.
Jason helps his clients understand the competitive space and the relevant IP landscape, enabling them to evaluate and implement the best strategic business strategy for their needs. He assists in implementing these strategies in multiple ways, including drafting and negotiating research agreements and IP licenses. Jason has led the research and preparation of due diligence and freedom to operate opinions for both small and large biotechnology and pharmaceutical companies.
Before practicing law, Jason was a bench top research scientist at Duke University Medical Center and Eli Lilly (formerly Sphinx Pharmaceuticals). His research experience includes HIV and leukemia. Jason also spent three years as a clinical research monitor, where he trained physicians and clients on FDA laws and regulations regarding the proper conduct of clinical studies.
Jason is a registered agent with the United States Patent and Trademark Office and he can lead either offensive or defensive Inter Partes Reviews.
Professional Affiliations:
– American Intellectual Property Law Association
– New York Intellectual Property Law Association
– American Health Lawyers Association
– New York State Bar Association
– American Bar Association
Corporate Supporters