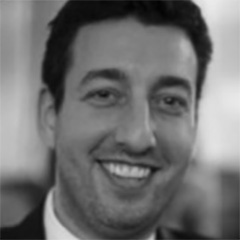 Adam Hanina is co-founder and CEO of AiCure, an artificial intelligence company that has developed facial recognition and motion-sensing technology to confirm medication ingestion by clinical trial participants and high-risk patients in real time. He is also the primary inventor of AiCure's patented technology, which can be downloaded as an app by patients onto their smartphone or tablet computer.
Prior to AiCure, Mr. Hanina performed business development and strategy at the leading electronic medical record supplier Cerner Corporation. He was a visiting fellow of eHealth at Imperial College in London, UK and has held advisory board positions on the Indian High Commission's Healthcare, Pharmaceutical, & Biotech Committee, and for Deloitte Consulting's Health Informatics Network for Europe.
Mr. Hanina has served as a subject-matter expert on medication adherence technologies for the National Institutes of Health (NIH) and is currently a principal investigator for multiple NIH innovation grants. He holds an MBA from the Wharton School of Business.